About Us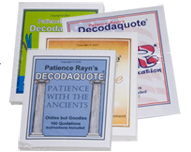 When the cryptogram in my local newspaper disappeared I began encoding snippets for my own pleasure.

Several weeks later I had a chance encounter with the editor and asked if he'd consider the work of a local cryptographer. He hired me on the contingency that I wouldn't get bored and quit in three months. I promised him I wouldn't; my first cryptogram debuted in 1990.


Decodaquote currently appears in the Calgary Herald and Kitsap Sun.
After a few years, I began to produce puzzle tablets. I produce both theme tablets of 100 puzzles and tablets with a year's worth of challenges (366). My inventory continues to grow, and selections are available through the "Order Tablets" catalogue.
They are also sold at:
Clever
11225 NE St Hwy 104
Kingston WA, a block from the ferry terminal,
Harrison Medical Center Gift Shop
2520 Cherry Avenue
Bremerton, WA
White Horse Toys
317 NW Gilman Blvd # 13
Issaquah, WA 98027